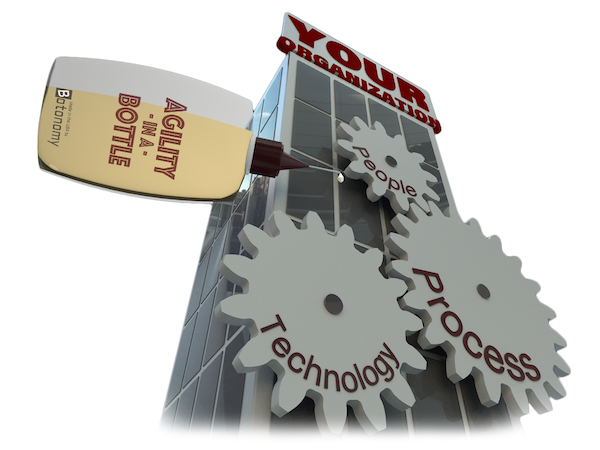 Atlassian Solutions:
Go agile and run your organization like a well-oiled machine
Agile planning and service delivery practices are proven productivity boosters both within and outside of IT.
The formula to get started has three basic ingredients:
The Vision to paint clear goals for your teams
The Discipline to consistently follow lightweight processes
The Right Tools to serve your operational, knowledge management, and collaboration needs
We think that the value proposition of the integrated Atlassian product line is unmatched in the market today, and well-positioned for the future.
When you see how Atlassian products can help your teams Organize, Discuss, and Complete their work, you'll likely agree.
---
We Are
As an Atlassian Expert Partner, Botonomy can help you plan, integrate, and configure a solution to help your organization maximize team productivity, streamline decision making, and/or improve your planning/estimation processes.
We believe that simple solutions pay tremendous dividends over time, and we actively avoid unnecessary complexity when designing and delivering solutions for our customers.
But if your needs extend beyond the native capabilities of the Atlassian tools, we can identify and integrate the right 3rd party plugin for your requirements, or develop a custom solution that leverages the modern Atlassian Connect-style integration approach via the Atlassian REST APIs and webhooks. We can also build high-performance and scalable HipChat integrations over XMPP.
Speaking of HipChat, we have experience developing automated chat-based agents (or "bots"), that make initiating or participating in workflows as easy as sending text messages in HipChat. This genre of chat-based applications is referred to as ChatOps, and provides a very effective means of simplifying user notifications, interactions, and other engagement, especially for users on mobile devices.
We can also create custom data visualization solutions for customers who need domain-specific or other non-traditional representations of data managed in JIRA and/or Confluence.
Please contact us for more information or to see a demo of how powerful and intuitive workflow solutions can be developed by automating and orchestrating HipChat, Confluence, and JIRA (Software, Core, or Service Desk).
---
The Network Effect: Force Multiplication with Atlassian Tools
Atlassian's products can be broken out into four broad categories:
Task and
Issue Tracking



Knowledge Management

Real-Time Collaboration

Developer Operations


Each of these are a great tool in their own right. But the secret to understanding the power of the Atlassian solution lies in Metcalfe's Law, which states that the value of a telecommunications network is proportional to the square of the number of connected users of the system. Likewise, the value a customer derives from the Atlassian suite grows tremendously as additional tools are incorporated and integrated into their installation.
For example, JIRA Software is great for software issue tracking. Bitbucket is great as a software version control system. But the value is multipled when the tools are connected, so that bugfixes commited to Bitbucket automatically update the status of the underlying issue tracked in JIRA Software.
The same principle holds true for the rest of the tools: Integration multiples value. For example, Real-time notifications on your phone in HipChat when important Confluence pages are updated, JIRA Software dashboard notifications when continuous integration builds fail in Bamboo, etc.
---
Our Service Offerings
Botonomy provides five Atlassian-related service offerings, addressing the needs of customers across the entire Atlassian tools adoption curve:
Assessment and Analysis: We can help you determine if and how you should move forward with adopting Atlassian tools and agile practices.
Planning and Implementation: We can help you implement Atlassian tools, configured for the needs of your organization.
Platform Configuration: We can configure the built-in functionality of the Atlassian tools based on your requirements.
Platform Extension: We can develop custom automation and/or integration solutions that leverage external application functionality which integrates with the Atlassian tools via API calls, webhooks, and/or XMPP (HipChat).
Training and Education: We can help your team members take advantage of all that the tools have to offer, with training materials and collateral tailored to the specific needs of your organization.
The diagram below shows how these five service offerings can help in all phases of adopting Atlassian tools: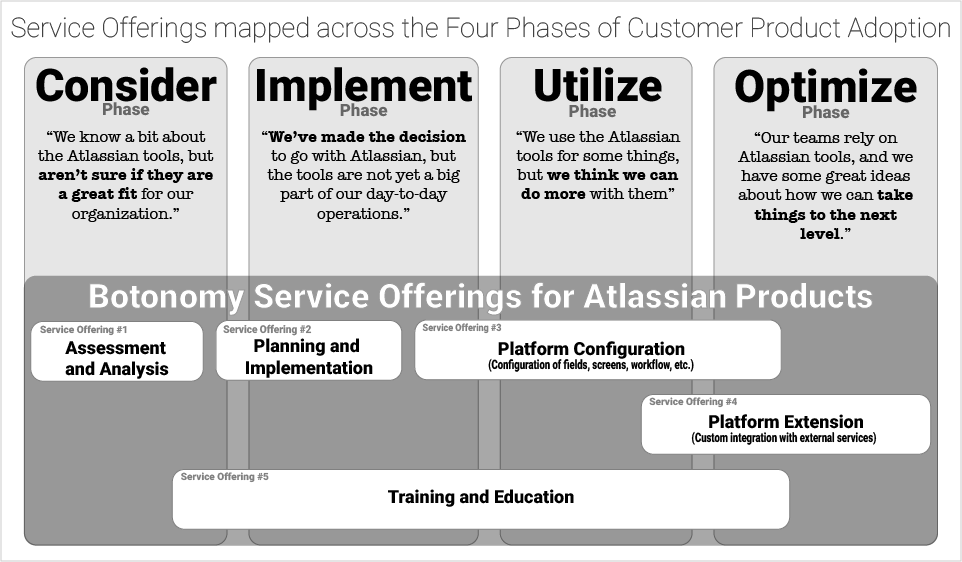 ---